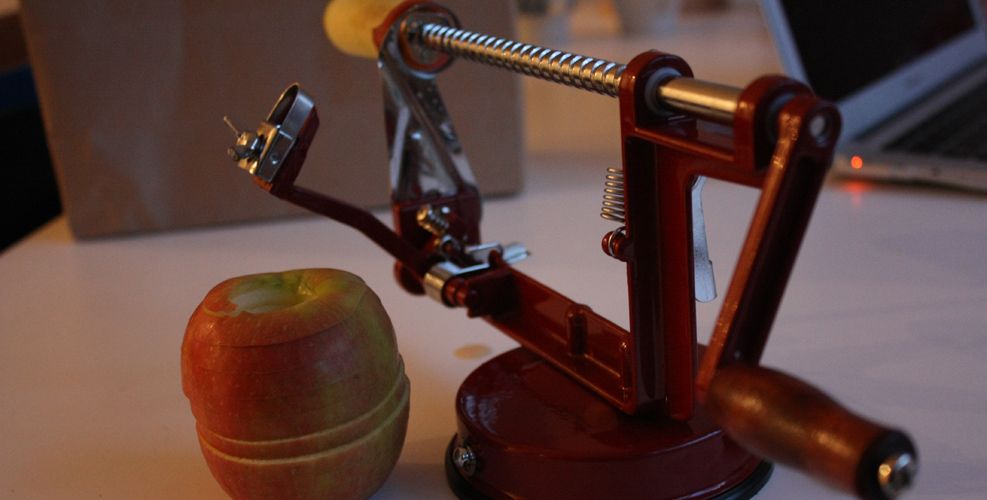 I just bought this toy from Labour & Wait in Shoreditch. It has been a frequent guest on my wish lists over a year now. This weekend I was nearby and decided to seal our fate. This is the most fantastic and fun kitchen gadget, and the favorite may I add, at the moment in The Pantry. It will both cut the apple in slices and peel it at the same time, making it very easy to create wonderful dried apple snacks you can use to either top off your morning yoghurt, granola or just as a delightful little snack. I originally saw this tool in action in my all time favorite TV-show in Denmark, called Bonderøven. From that moment on I knew I had to have this in my Pantry one day. Today was that day.
One apple will make up to 10 slices. Here's how it's done:
Just slice up the apple as the gadget allows – or if you don't have such an instrument, slice the apple using a sharp knife, and make sure to take out the core of the apple afterwards.
If you are using the gadget you will get a spiraled apple, so you need to make a cut through all of the layers to make the slices. Make sure to cut through the "heavy" side of the apple, meaning where the apple is thicker, as when you dry the apple on a hanging rack the heavy part of the apple will seek towards the ground (gravity, right?). If you are cutting the apple through the thin side and gravity pulls on the heavy side, the slices will fall of the rack. Make sure to dry them safely over a radiator or wood burning stove. If you feel like it drizzle some cinnamon on top of the slices before you let them hang to dry.
Are you intrigued? You can buy it here!