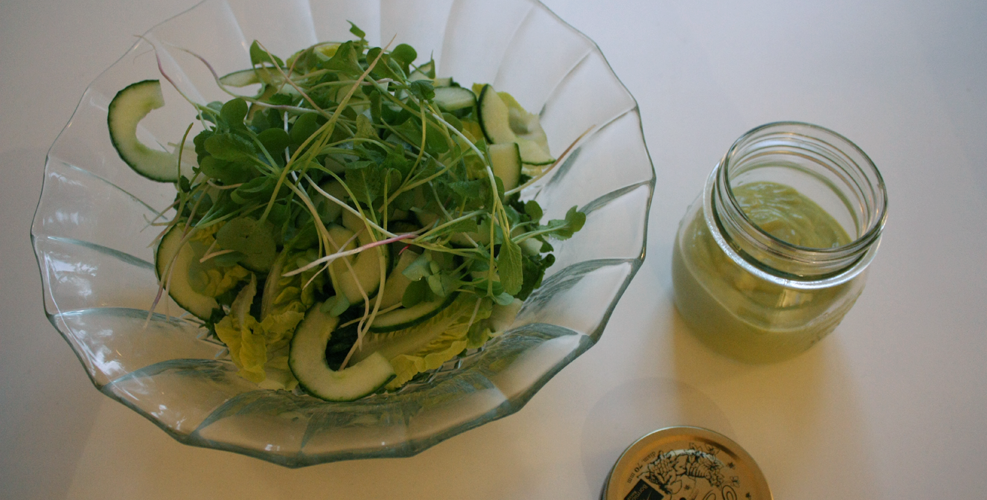 If you love lime, try this one! If you love avocado, try this one! Imagine if you love both lime and avocado? Intriguing.
So what have happened in the last two weeks? The pigeons have been feasting on all my salad, which means I need to get a move on if I want to enjoy salad from my garden this season. Also, I started up the Clean Gut program again. Last time I had to cut it short when my wisdom tooth decided to break free and give me an intense pain, only curable with antibiotics. Needless to say, that completely wiped out all good bacteria in my gut and my skin began to itch as the meds slowly dehydrated me more and more. So now I'm giving it a go again, and drinking loads of water and eating tons of the good fat, hence the avocado recipe here.
It's so super simple, and really tasty. You know how you are at a restaurant (or Pizza East) and you get an amazing butter lettuce side salad (or the Butter lettuce, avocado, vinaigrette)? You just want more, right? And more, and more of that wonderful dressing everything have been coated in. Well, I'm not making any promises, but try this one and see if you can replace the dressing with this clean lime-ish sour version and enjoy such a simple honest side of salad as much as you would do with the original coating. And then tell me what you think…
For dressing to A LOT of sides, all you need is:
1/2 avocado
Juice from 1-2 limes (be honest with yourself. Do you LOVE lime? If not, then just use 1 lime, because this will really be sour the more lime you add)
1 teaspoon salt
1 teaspoon cumin
1 teaspoon of grated fresh ginger
1/2 cup of olive oil
This is how it's done…
Blend all ingredients in a blender until smooth and dressing like. Toss together your favourite greens (I had the please of adding radish sprouts to my salad, as I was pinching out the rows in the garden. Instead of tossing the sprouts I rinsed and nipped and topped my salad with them). Add a couple of teaspoons or three to the salad. Toss to coat and serve immediately.