Breakfast for dinner? Love it! And who doesn't? This evening I got home late from work, and stopped by Planet Organic to pick up almond milk and frozen fruit. Threw a coconut yoghurt in the basket as well, when I had the idea of eating a breakfast bowl for dinner. This could also be a dessert bowl to be honest. Imagine that, dessert for breakfast? I like it!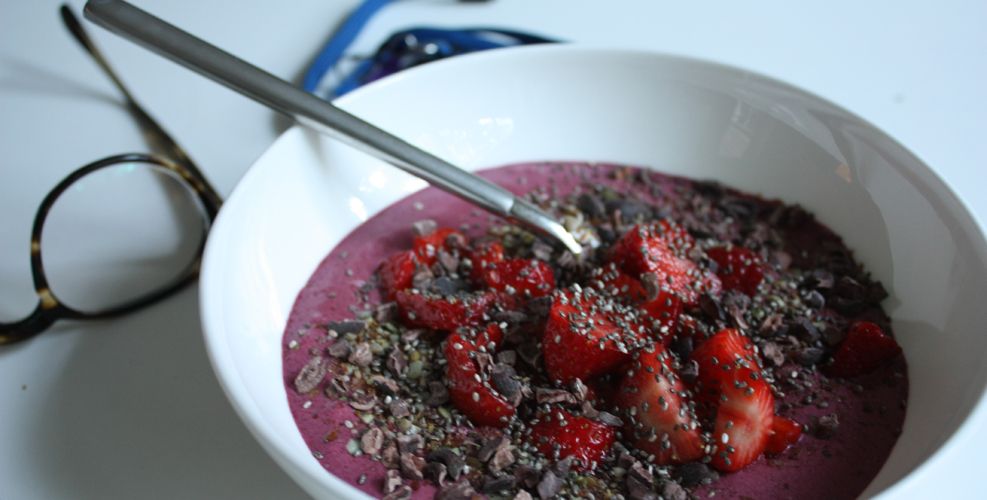 For one person all you need is:
1 cup of Coyo coconut yoghurt
1/2 cup of frozen blueberries
1 teaspoon of vanilla essence
Topping:
A drizzle of chia seeds
A drizzle of cocoa nibs
4 fresh strawberries cut into small pieces
1-2 teaspoons of milled pumpkin seeds, sunflower seeds and flax seeds (or just buy 'Linwoods Milled Organic flaxseed, sunflower & pumpkin seeds')
This is how you make breakfast for dinner or dessert for breakfast, you chose:
Blend the coconut yoghurt, frozen blueberries and vanilla together. Pour into a bowl and drizzle with all the toppings. This is not really a big portion, so please feel free to add up, if you're really really hungry or just craving this.