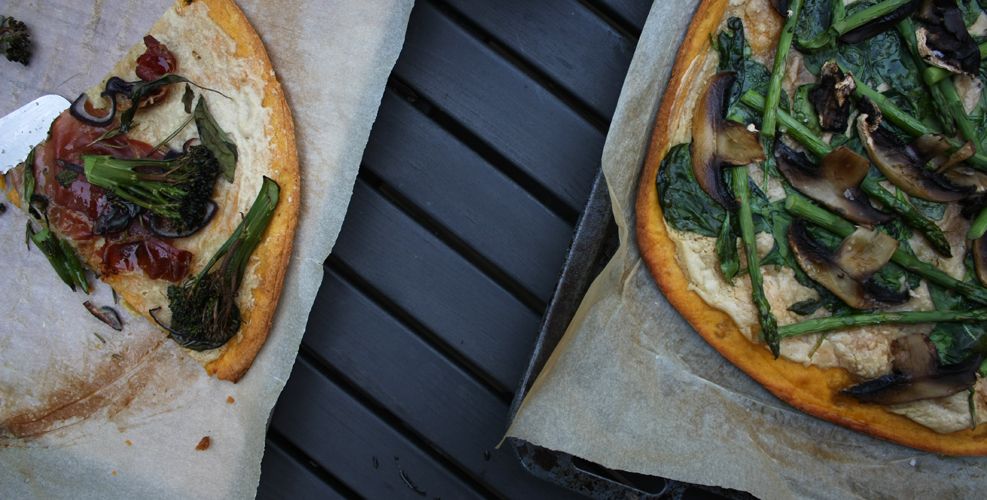 OMG! I made a vegan pizza. And OMG! My boyfriend actually liked it! Ha ha, no.. All kidding aside, this succeeded. Don,t be fooled. It's not a white flour, typo 00, delicious italian crust. This is whole-foods based, made on a sweet potato and chickpeas mash. And it taste really good. The crust becomes quite crunchy on the edges and soft in the middle. And please, don't do the same mistake I always do; pouring way too much filling on the pizza crust. If you do that, the crust will just soak it all up and not bake as well. Another small tip; bake this on a baking rack rather than a baking tray. Enough talking, let's get going so you can try out this recipe yourself.
All you need for three medium sized pizza's…
Crust:
550 grams of peeled sweet potato
1 can of drained chickpeas
1 tablespoon of coconut oil
4 tablespoons of olive oil
1/2 cup of almond milk
3 teaspoons of salt
2 teaspoons of xanthan gum
2 cups of gluten-free flour
Topping:
I made a cheese cashew sauce of 1/2 cup of cashews, 2 tablespoons of nutritional yeast, pinch of salt, and a clove of garlic and blended it with water until it was thick and creamy. Then poured it over the pizza crusts and topped up with 1.) ham, broccoli, red onions and fresh rosemary and basil, and 2.) fresh spinach, mushroom and asparagus, drizzled with some olive oil – not too much though, remember, we don't want to get the stuffing too wet and soggy. Just remember to add some more salt and seasoning if you only are using nice veggies as topping.
This is how it's done…
Boil the sweet potatoes until they are ready to be mashed. It will take around 20 minutes. Drain the hot water from the potatoes. Rinse the chickpeas, so all the liquid from the can has been removed. Use a blender to mash both potatoes and chickpeas togehter. Add the coconut oil and olive oil alongside the almond milk and salt. Combine it all before you add the xanthan gum and finally the flour. You want to end up with a smooth dough.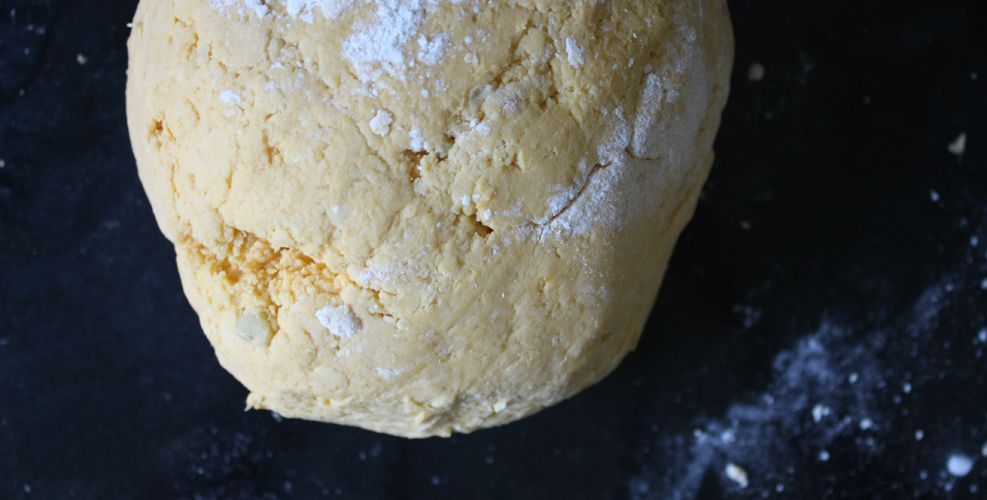 Divide the dough into 3 parts and start rolling it thin between two sheets of baking paper. Roll it as thin as you can between the two sheets. Turn the piece of baking paper you have used on top when you rolled the dough and brush the sheet with a bit of olive oil. Then turn it so the oil covered side of the paper is facing down on top of the dough. Turn the thin dough so the paper that is covered in oil facing down on the top of the dough now is under the dough and will be the baking paper used under the pizza during baking. Pre-bake for 10 minutes on a baking rack at 200 degrees celcius.
Once pre-baked, take the pizza crust out of the oven and apply the cashew sauce and your favorite topping. Bake for 20 more minutes until the outer crust is hard and crunchy and the topping baked. Voila, done!