I first tried this wedge salad at our local Mexican restaurant, and it was lovely, but also not very dairy-free. Hence, introducing my trial at making this salad a lot more clean. I have always felt Iceberg salad heads are quite boring, to be honest. But paired with this cashew cream it really starts kicking and becomes a lovely fresh and tasty summer salad. It will be perfect for any BBQ or just as a mains if you only can stomach something light, due to heat waves (lovely!) or pregnancy acid refluxes (utter pain in the…!).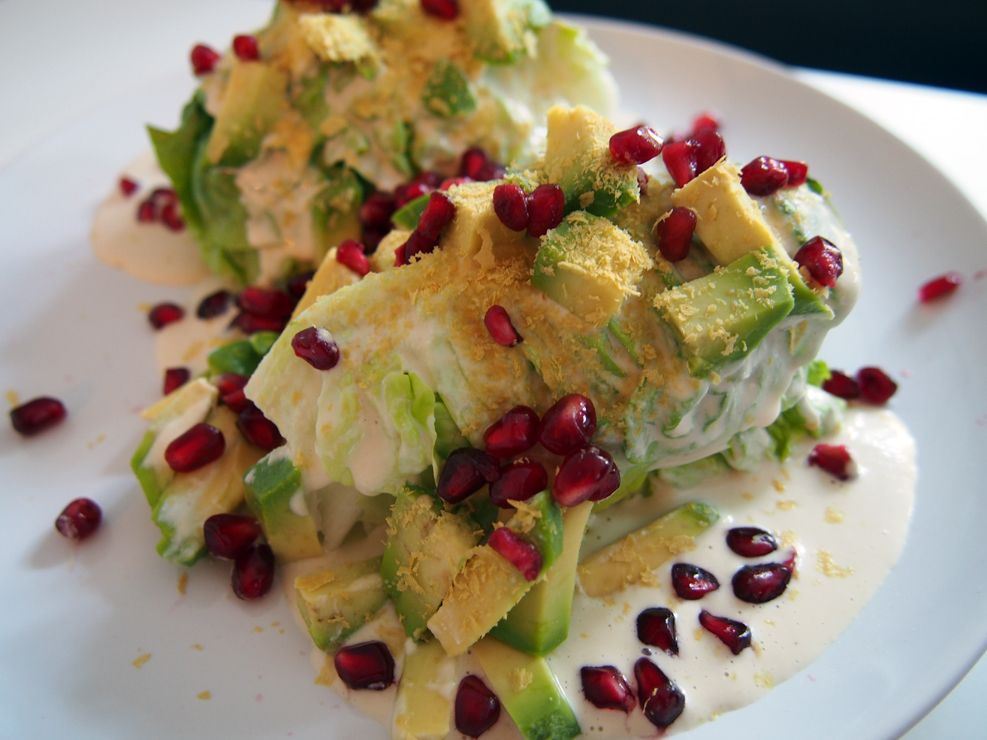 It's so easy to make. All you need is:
For the cashew creme:
3/4 cups of raw cashews
1 cup of water
Juice from half a lemon
1 heaping tablespoon of nutritional yeast
1 teaspoon of fresh or pickled horseradish
1 teaspoon of agave syrup
Salt and pepper to taste
For the salad:
1 head of iceberg salad, cut into 4 wedges
1 avocado, diced
3-4 tablespoons of pomegranate kernels
Another heaping tablespoon of nutritional yeast
Blitz all the ingredients together in a strong blender for the cashew creme, and store in the fridge. Ideally you can make the creme in the morning and then store it in the fridge so you are sure it's cool for when you need to use it.5 minutes before serving the salad, take it out of the fridge, arrange the 4 iceberg salad wedges on a sharing platter and drizzle the creme generously over the wedges almost covering them all. Top them with the diced avocado, pomegranate kernels and 1 heaping tablespoon of nutritional yeast.