The first thing you learn when you move to the UK is the fact that you buy your breakfast and bring it to work. And it's mostly cereal. Or a sausage roll, if it's Friday and you have a bit of a hangover. Not like in Denmark, where you eat breakfast at home and then go to work. But then again – food wise – many things are different here. For instance, Bircher Muesli is huge here! I've never heard of Bircher Muesli before moving here and frankly, thought of it to be a bit weird. Soaked oats? Isn't that the downside of having cereal, when it get's really soaky?
Anyways, I've actually started to appreciate the soakiness. That's why I decided to try out a vegan alternative on Sunday. This is true sweet morning bliss. The vanilla coconut yoghurt is optional, but adds a nice vanilla touch. This is a perfect breakfast you can prepare before you go to sleep the night before and then just top it off with fresh fruit and other toppings in the morning.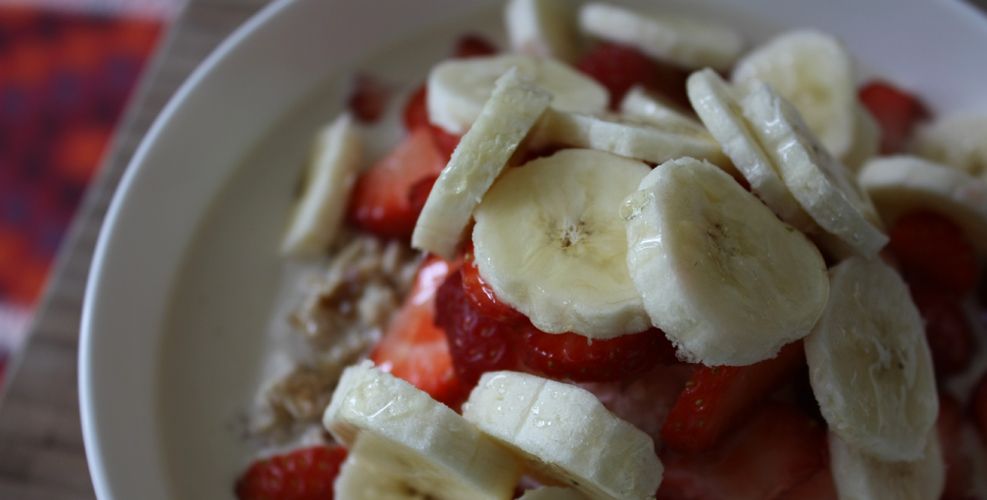 For one big ass portion all you need is…
1/2 cup of gluten free oats
1 cup of freshly homemade almond milk
3 dried dates
2 tablespoons shredded coconut
2 tablespoons hazelnuts, almonds, walnuts or other nut of your choice
1 tablespoon of coconut vanilla yoghurt
Fresh strawberries, a banana and some agave sirup as topping
This is how you do it…
The night before you want this delicious breakfast soak the oats, shredded coconut flakes, nuts and dates in the almond milk. Next day take it out of the fridge, transfer to a nice breakfast bowl and top it up with yoghurt and fresh fruit, before drizzling it all with agave sirup. Serve immediately with a cup of peppermint tea or your favorite organic coffee.