On the contrary to the story my blog is telling, with a wide range of vegan recipes, I'm not 100 percent vegan. However, I rarely eat meat, and if I do, it's primarily fish and eggs. I will eat some eggs and a piece of fish maybe once every two weeks and it feels so good to cut the meat consumption down. Ever since we did, we have been spending less on grocery shopping and the only poultry and dark meat we buy (for my man because he's still a meat lover) we buy organic at our local farmers market.
But this weekend we have just left, I felt the need for some eggs. Also, I indulged on the most amazing rainbow chard leaves plus a couple of cavolo nero kale leaves. Looks stunning when they are all cut to pieces and slightly sauteed. And the best part? I could have swore that I smelled some rhubarb when cutting the red chard leaves. So you kind a get a hint of Indian Summer when you prepare this dish.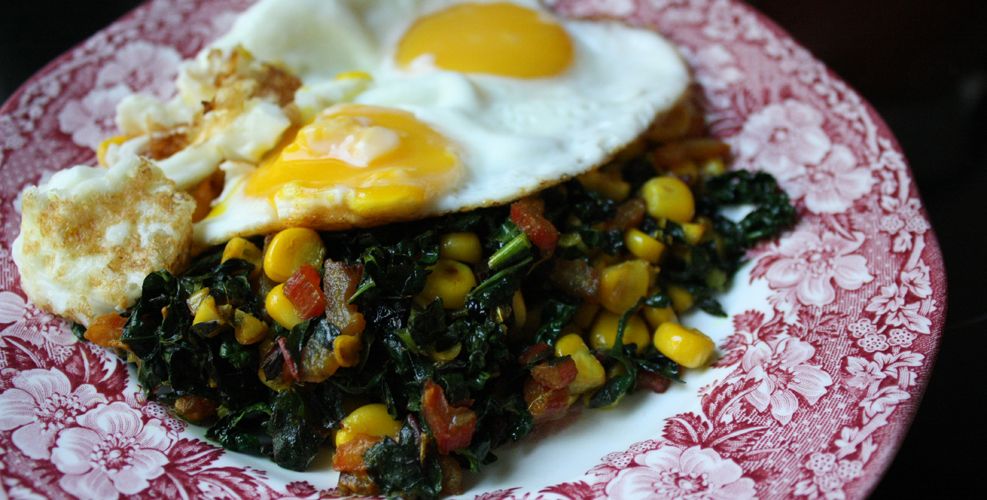 It's really very easy, all you need for one serving is…
2 leaves of different colored Swiss chard leaves
2 cavolo nero kale leaves
3 tablespoons sweet corn
2 teaspoon coconut oil for the pan
1/2 teaspoon of turmeric
1 or 2 eggs
Salt and pepper to taste
Cut all of the kale and chard leaves in thin slices, ready to be sauteed. Melt the coconut oil in a pan and add the kale and the chard. Slightly sauté in a couple of minutes, then add turmeric, salt and pepper. Move the veggies to one side of the pan and add the eggs to the other side. Fry the eggs over low heat until they are done. If you like it, make sure that the egg yolk is still "runny". I like then half runny half baked, so they can still drizzle over my veggies when I cut them. Serve the turmeric curried kale and chard on your favourite plate and place the eggs on top. Savory breakfast is served.