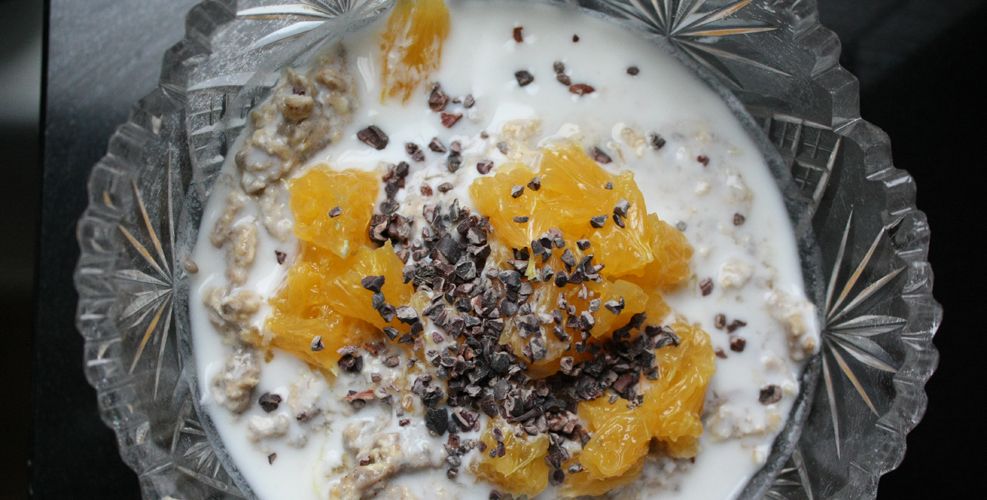 This is a super energizing breakfast bowl of raw overnight oats, perfect as a post-training meal, or a full on breakkie before a long day of activities. I'm planning on loading up on this breakfast and plenty of green juice when I'm going sea kayaking in the end of September. Can't wait! This recipe is also good for those of you (myself included) that have difficulties getting a hardcore chia pudding down on its own.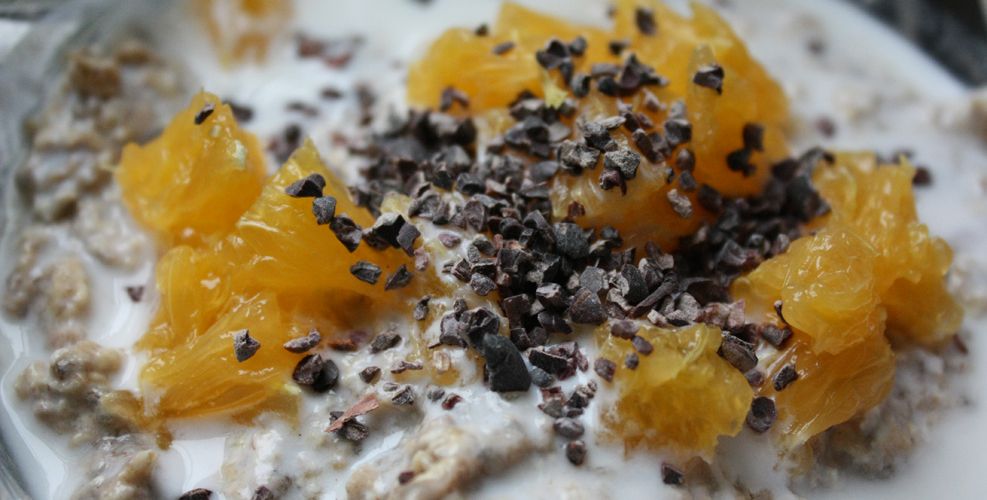 The steady hearty seasoning from the orange juice, cinnamon, ginger and vanilla and the super energizing filling foods like oats, bananas and cocoa chips make for a good comforting breakfast. It will take around 20 minutes to prepare the night before – don't you just love the night before preparations, which allows us to sleep in and hit the snooze button a gazillion times? I certainly do…
For 2 servings you will need (or in the case you are extremely hungry, 1 serving)…
Juice from 1 orange
1 tablespoon agave syrup (or brown rice syrup or coconut nectar)
1 banana
1/2 cup almond milk
2 tablespoons vanilla essence
1/2 teaspoon cinnamon
1 teaspoon ground ginger
2 teaspoons chia seeds
2 tablespoons of pecans
You will need additionally 2 oranges and 1/2 cup of almond milk, alongside cocoa nibs for the topping once you serve the porridge.
Start by blending the bananas with 1/2 cup of almond milk, the juice from 1 orange, agave syrup, cinnamon and ginger to make the "banana/milk creme" the oats will soak in overnight. Chop the pecan nuts roughly. Add pecans, oats and chia seeds to the juice and stir together, making sure that all the dry ingredients are tossed together and coated in the creme. Leave it to sit overnight in the fridge.
In the morning take out the porridge divide the portions in two. the Porridge should be really sticky by now. Slice two oranges and remove the white skin, so you are left with only the orange "meat". Pour one tablespoon of porridge in the bottom of a glass bowl and then add a layer of orange meat then add another tablespoon full of porridge. Top up the porridge with the remaining of the orange meat, before pouring the 1/2 cup of cold almond milk over the porridge. Drizzle with cocoa nibs in the end.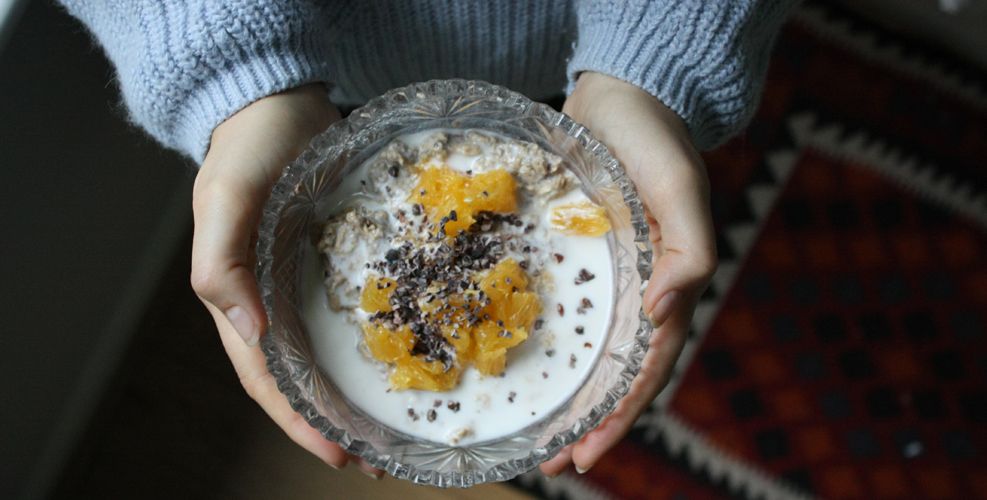 Drink with your favorite tea. Mine is Teapigs' Liquor ice & Peppermint, which I occasionally are asked to import to my brother when I'm going home to visit Denmark. This tea is absolutely amazing, I practically never drink anything else!