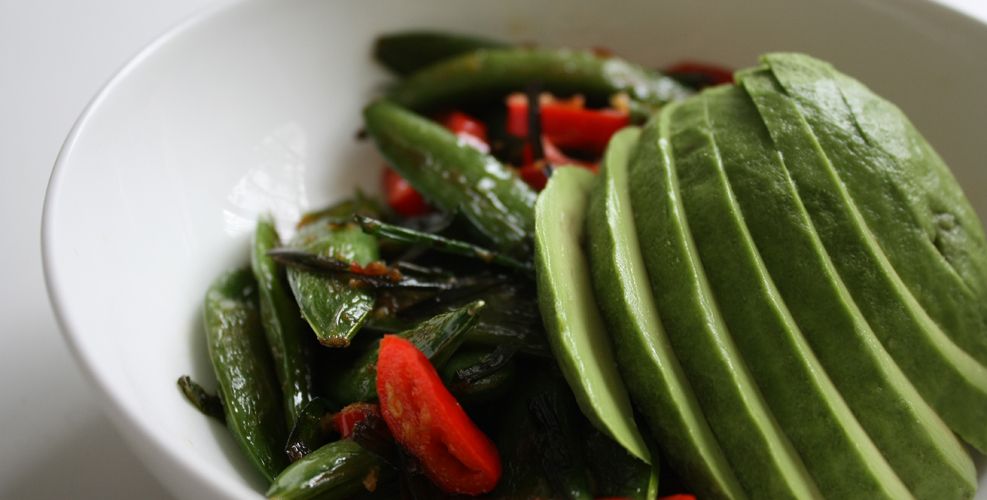 Sides are underestimated. I always enjoy a good side dish at a restaurant, and I dont think a mains should go without one. So without further ado, I present to you the Perfect Thai Pea side dish. This is both sweet and sour given the combination of fresh ginger, lime juice and coconut oil, and the leftover juice on the pan is purely finger-licking!
For 1 serving you will need:
2 cups of snow peas
1 cup of chopped up sweet red peppers
1 heaping tablespoon coconut oil
1-2 tablespoons lime juice
1 inch of grated fresh ginger
1 tablespoon cashew nuts
2 tablespoons of chopped chive and basil
Optional: 1/2 avocado
This is how you do it:
Melt the coconut in a frying pan and add the peas. Cook them for 2 minutes, then add the chopped red pepper along with the ginger, herbs and cashew nuts. Fry for another 2 minutes, then add the lime juice and stir thoroughly. Transfer immediately to a serving plate to make sure the veggies still have a little bite in them. Serve right away. If you LOVE avocados like myself, add half an advocado to the dish.