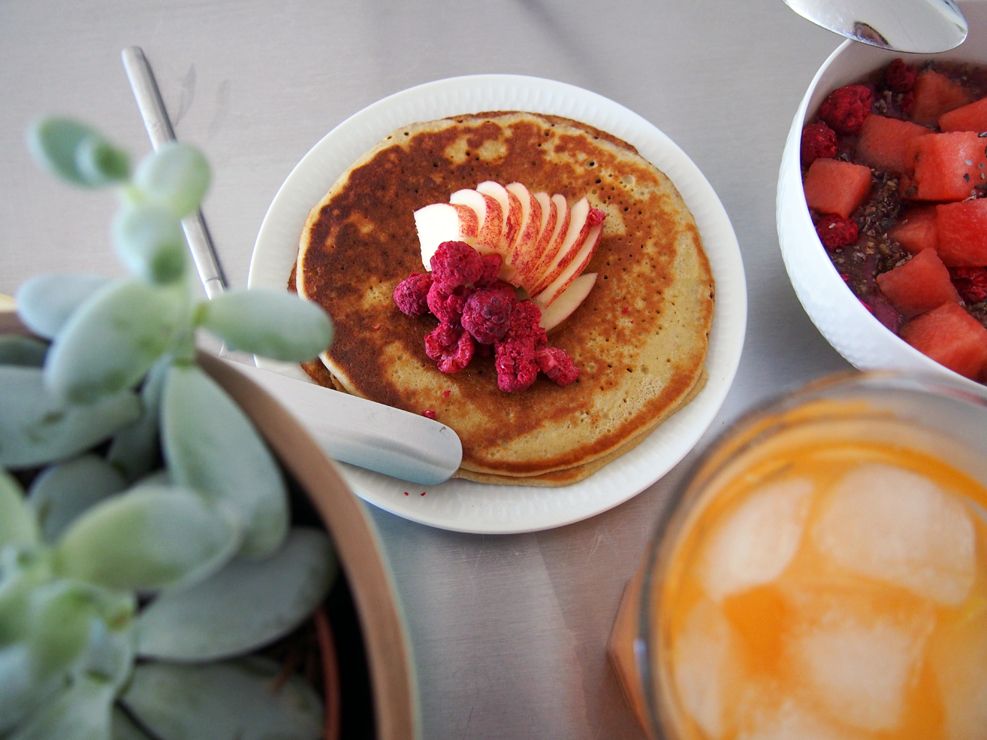 Wow, pancakes, huh? First an ice cream recipe and now one for pancakes? You can hardly tell I'm still pregnant…
Yeah, that is right. Still no baby. Very uncomfortable, but no baby. I have put myself on "house-arrest", meaning I'm very very reluctant to leave the home premises. I totally dislike it. I'd rather snuggle up with Netflix, my duvet and something cold, as in if-there-is-no-ice-cubes-in-this-drink-I-will-shoot-someone-cold. It's not fun putting yourself on house arrest. I wish I had the urge to go explore and wander in the lovely summer weather, but no. Let's see when I need to calm a screaming baby, I might have the urge to get out again. Fingers crossed.
Please note, for my vegan readers, that this recipe is not vegan. I have put some eggs in it. Even though I eat less and less animal protein, eggs are often my drug of choice, whenever I do.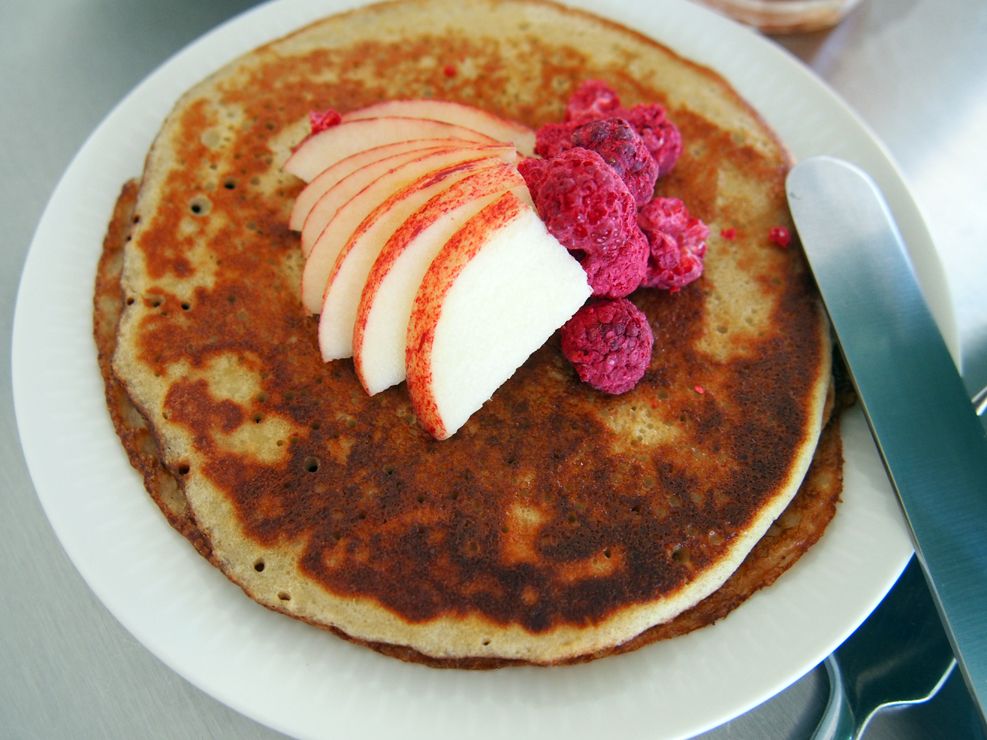 Again I have tried to make this recipe real simple, and it is! Only 5 ingredients and all you do is blitz them together in a blender before heating up the frying pan.
All you need is:
1 cup of gluten-free oats
1 cup of nut milk of your choice
2 eggs, preferably the ones you by from a local farmer or at your farmers market so you are sure the lovely chicks have eaten some grass and enjoyed the sun
2 tablespoons agave syrup, or syrup of your choice
Pinch of salt
You also need some coconut oil for the pan.
Blitz all ingredients in a blender and heat up the pan. When the pan is warm place a pea sized coconut oil on it let it melt and pour just nearly under half a cup of batter in the pan. Then you immediately turn the heat on minimum, and keep and eye out not to burn the pancake. Each side should be baking for about 3 minutes. Trial and error here, folks! See what suits you the best with the batter and heat combo, but you should be able to get 6-8 pancakes out of this – pancake style, not crepes style. Continue with the same coconut oil and batter procedure until you have no batter left.
Needless to say, but please… Eat immediately when all the pancakes are done!