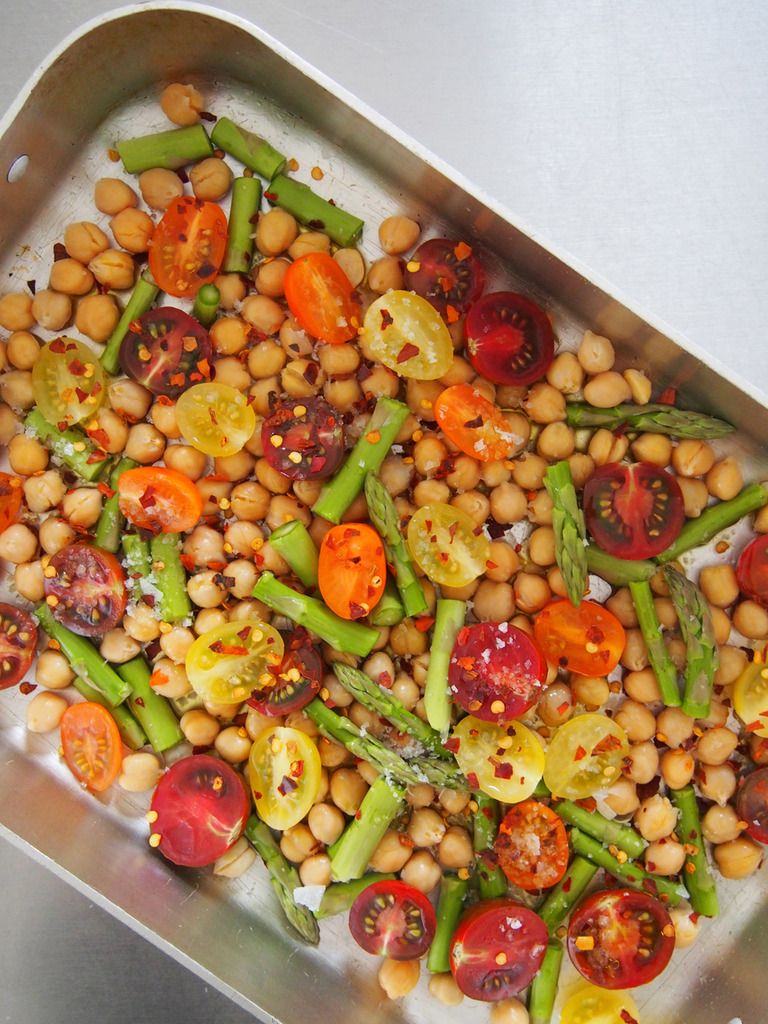 This salad is ever so simple and it's the simple ingredients and choice of which that makes the chickpeas the best you have ever had – no, no, seriously! Keep on reading and I will tell you why…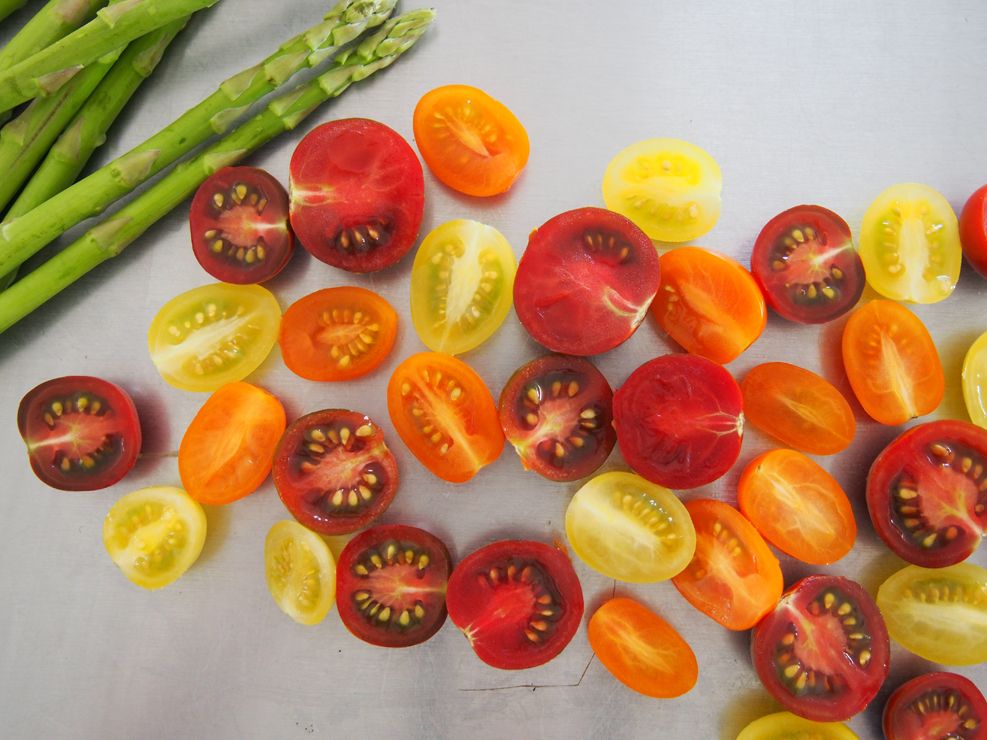 I recently discovered that I tend to like spring and summer more than autumn and winter. Previously I have never made that distinction. Never have I had a favorite time of year and season. I find it depressing. Why have favorites? What will then happen when we hit one of the other seasons that are a lesser favorite? We will just not enjoy it as much? Stupid thing to think about.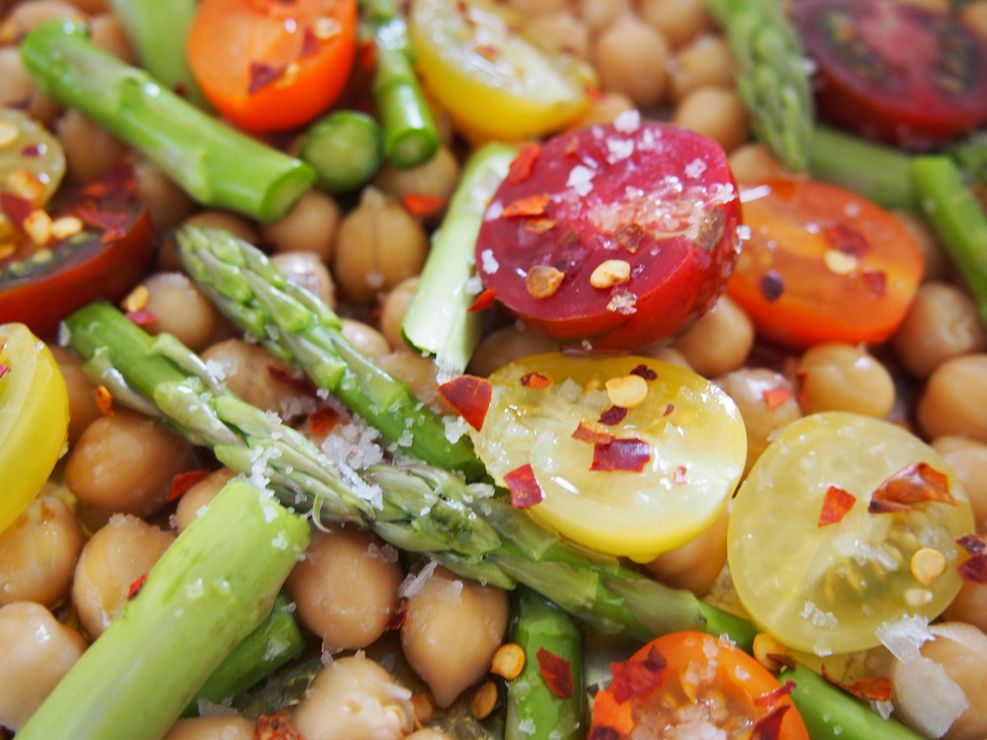 So, I'm going to try not to care so much about favorites going forward but how hard is it not, when all the fresh new veggies just pop out during these two seasons and you suddenly are made aware that you have gone 9 months or so without the taste of really good and sunny-ripe locally grown tomatoes? The same with asparagus? And new Danish potatoes? I don't normally eat that many potatoes – unless they are sweet potatoes – but when it's summer I go all in on the Danish kind. There are none better. Seriously!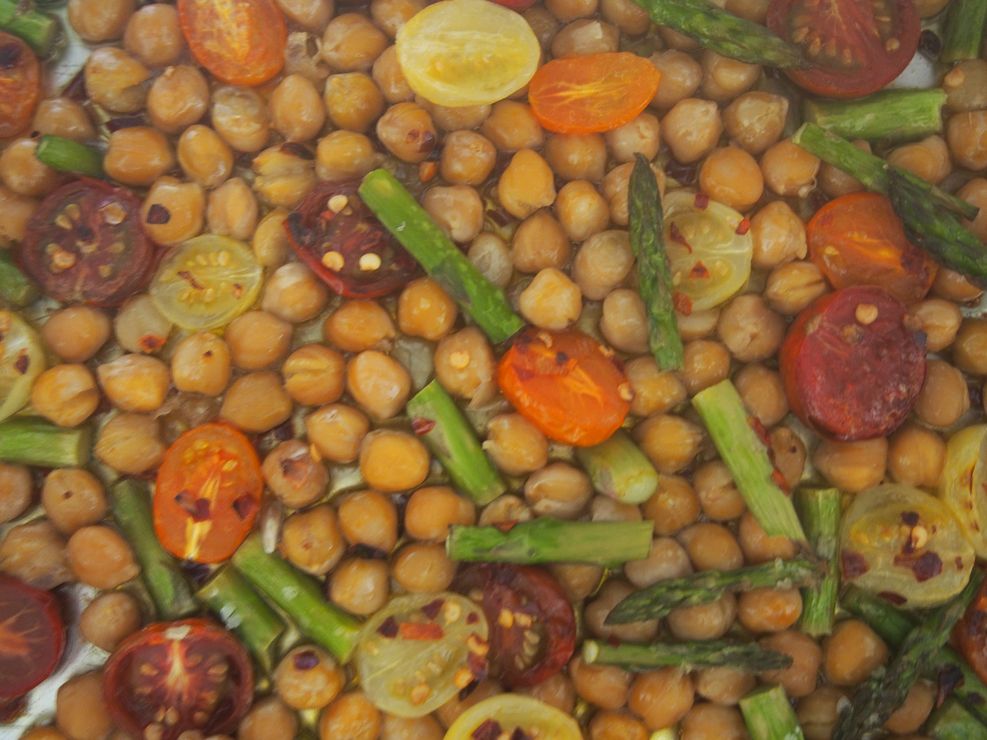 Try giving this warm salad a go – the new veggies roasted with the chickpeas, oil, lemon and chili flakes makes for a wonderful mouth bite!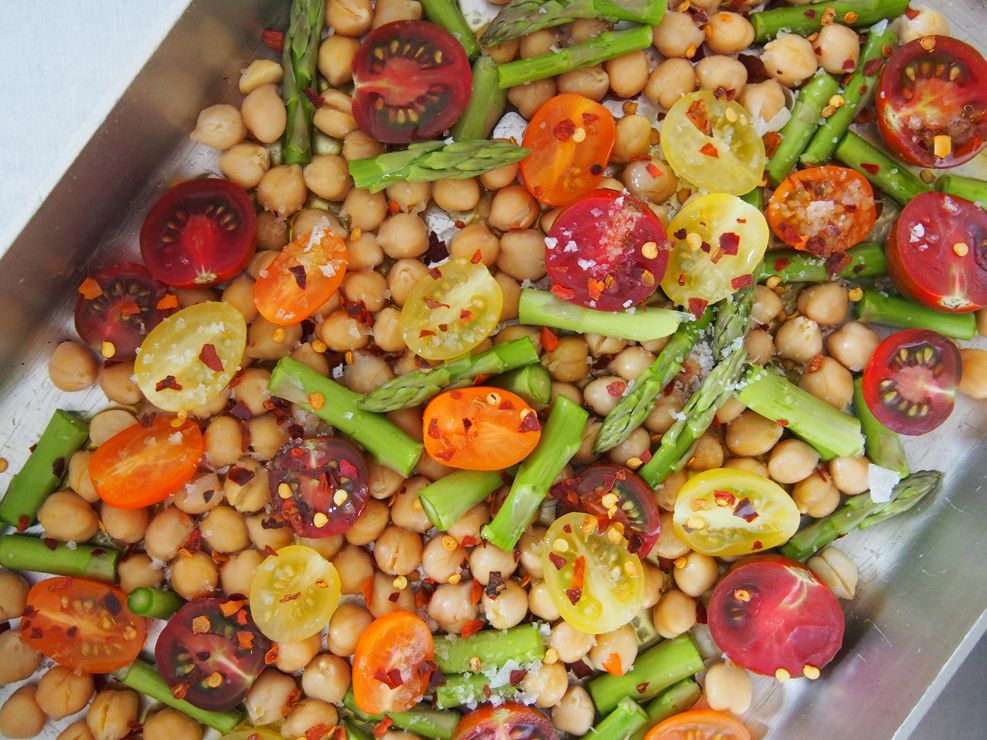 All you need is this:
20 new potatoes – they have to be new. So new you can peel the skin of them just by rubbing your thumb on them.
20 small new tomatoes, preferably in different colors
10 green asparagus
1 can of boiled chickpeas
Juice from 1 lemon
Olive oil
Salt and peper to taste
1 – 2 teaspoons of small chili flakes
Start by scraping away the skin from the potatoes, or if you like to keep it on, make sure to safely remove all dirt and soil from the skin before using the potatoes. Boil the potatoes for 15 – 20 minutes in plenty of salted water in a pot, but make sure not to over-boil them. Keep an eye out and poke them with a fork to see when they are done.
Chop the tomatoes into halves, the asparagus into 1 inch pieces and drain the chickpeas.
In a tray that is eligible for the oven, place the asparagus, chickpeas, tomatoes, chili flakes, 2 tablespoon of olive oil and salt and pebber and stir around to make sure all the ingredients is covered evenly in seasoning and oil. Roast in the oven for 20 minutes at 200 degrees Celsius and stir occasionally while cooking.
When the potatoes have cooked, drain the water from them and set aside. Just before the veggies are done roasting in the oven, dice the cooked potatoes. When the roasting is done transfer the veggies and chickpeas into the pot with the potatoes and stir gently to make sure all the potatoes are covered with the lovely chili and lemon oil and veggie juice from the roasting. Serve warm immediately!