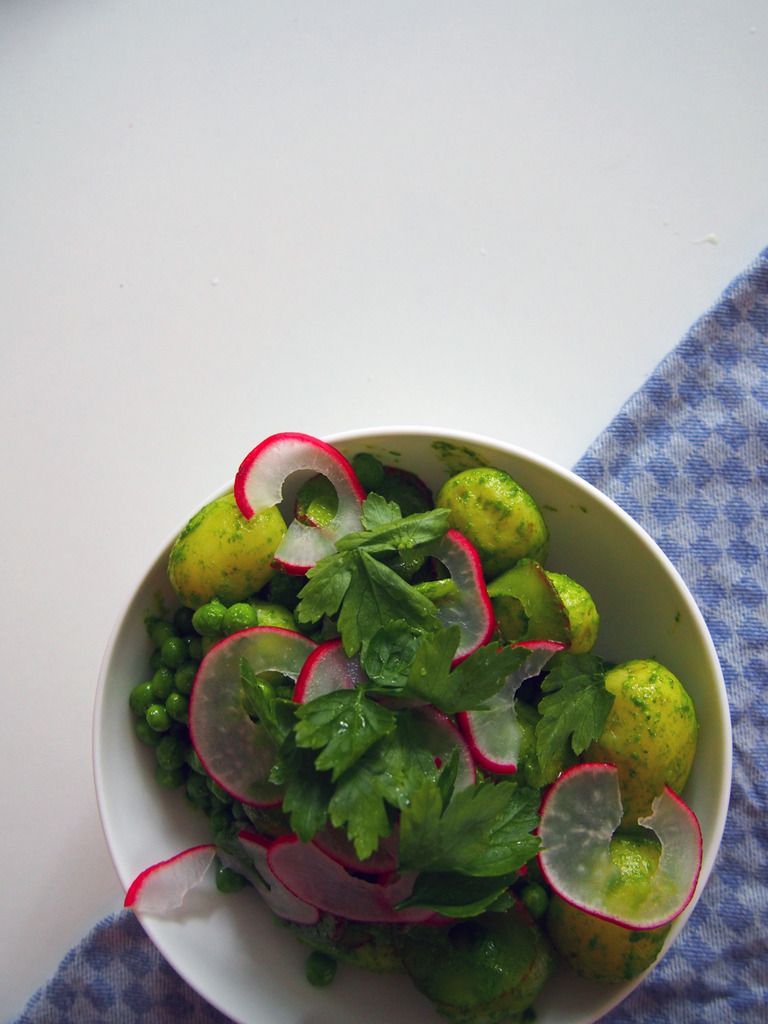 This potato salad recipe is a stable BBQ go to. This weekend my husband and I had it together with the most delicious goats burgers, from our local farmers market. Make sure that you use all new potatoes for this salad, and cook them to perfection, as this will help bring out the taste of summer. It's so very easy to make. While you wait for the potatoes to cook, make the pesto and prepare the peas and radishes. Once the potatoes have cooked all ingredients comes together perfectly.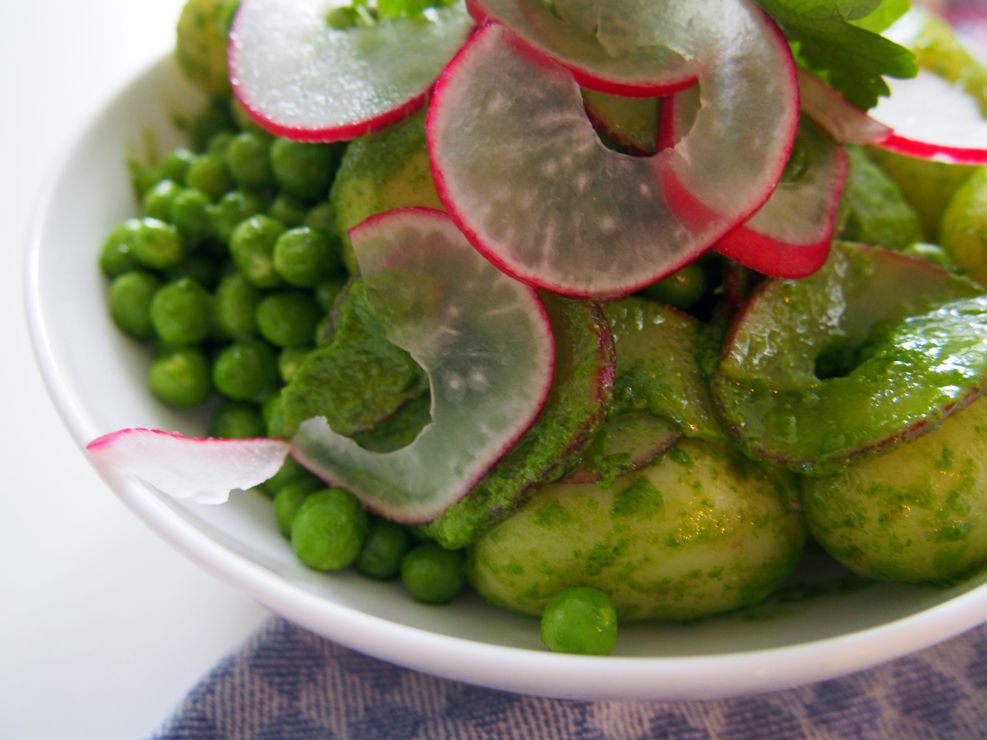 These are the ingredients you need – depending on how many you are preparing a meal for you can scale the ingredients up or down. We used 1 kilo of small new potatoes, 4 big radishes and 1 cup of loose peas.
Small new potatoes – make sure they are so new that you can basically peel of the skin by rubbing your thumb against them. If you can do this, they are absolutely perfect!
Fresh new radishes
A bag-full of peas in pods
For the parsley pesto:
1 bundle of fresh parsley
1/2 cup of pine nuts
1/2 cup of olive oil
1/4 teaspoon salt
Peel the potatoes with a sharp knife, making sure you only take off the delicate skin, that will easily fall off if you rub it with a thumb or a scourer. Do not use a potato peeler! Boil the potatoes for 20 minutes in cold light salted water, or check the potatoes when they have boiled for 10 minutes, to see if they are perfectly cooked, if not check again in 5 minutes and so on. You do not want to overcook these lovely new potatoes.
While the potatoes are at a boil, blitz all ingredients for the pesto in a blender until you get a smooth pesto. Remove all peas from the pods, put in a bowl and pour boiled water and a bit of salt over these. Let them stand for 15 minutes, to get a bit of umph and tenderness. If you don't want to boil your peas, go ahead and use them raw. Slice the radishes into thin slices and set aside.
When the potatoes are done cooking, remove them from the stove and pour the water from them. In the pot apply 3-4 tablespoons of pesto and stir well together with the potatoes. Then add the peas, and lastly, the radishes. Remove from pot and serve immediately in a bowl. Drizzle with some fresh radishes and parsley on top!